Warpstock 2019 Location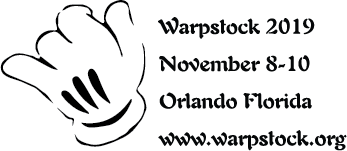 Warpstock 2019 will be held held at the Country Inn & Suites, Orlando Airport, located at 5440 Forbes Place, Orlando, Florida 32812. The room rate for this year's event is just $104 per night, single or double.
The dates for Warpstock 2019 are Friday, November 8 through Sunday, November 10, 2019.
Renovations start April 22, 2019 and are scheduled to conclude sometime in August, which means that the remodeling will be quite fresh for this year's event!
Note that hotel accommodations are not included in this year's registration fees, and you must make your reservations directly with the hotel by telephone: 1-800-456-4000 or 1-407-856-8896. Use the booking code "WARPSTOCK" to get the conference rate. The group rate is applicable three (3) days prior to and three (3) days after the event, based upon availability.

Last Updated Wednesday, September 08 2021 @ 08:40 PM; 2,664 Hits